In a blog post for Maps, Google revealed a new 'Parking Difficulty' feature that will tell users about the availability of parking spots in a given location.
This update is Google Maps' most recent change following their last year's Black Friday upgrade.
That last improvement introduced an option that tells users how crowded will individual stores be, and how much time do people typically spend in a particular place.
Jeff Albertson, the Product Manager for Maps, still warned users to make for parking before they go out. The new feature is available starting today in 25 metropolitan areas in the US.
How the parking advisor works
The parking difficulty icon will appear right after a user select their destination on a Maps route. Right beside the estimated time of arrival and approximate distance, they can now see a red circle with a white 'P,' which signals that parking in that place might be hard.
The Maps app identifies three different difficulties for parking in a selected location, easy, medium, and limited. Though it does not show in the article, they might go by the common colors in standard traffic lights.
For example, a red P is for limited parking, while yellow should be on medium difficulty, and green for a full availability of parking spaces.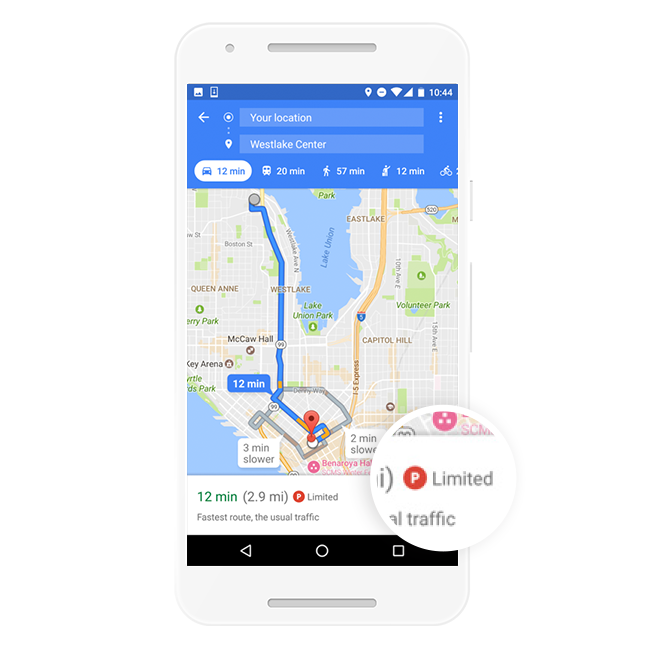 Maps Parking feature City list
The article states that Google can calculate this data in a similar way to how they do it with 'Popular Times' and 'Visit Duration,' the two features introduced last year during the Black Friday hype.
'Parking Difficulty' is currently available to users in the metropolitan areas of Seattle, Miami, Boston, Atlanta, Charlotte, Minnesota, Minneapolis, St. Paul, New York City, Orlando, Philadelphia, Pittsburgh, San Diego, Houston, Phoenix, Sacramento, and some others.
Maps keeps on innovating
Many users regard the GPS app as one of Google's best efforts to date, beating Apple's variant and even dedicated apps like Waze, which have fallen out of popularity.
The version 9.43.2, which came out on January 12, introduced full native integration with Uber, a huge step for both Google and the on-demand cab service and ride-sharing app. That update now allows users to book an Uber directly from the Maps app.
According to online reports, app developers also plan to release a 'lists' feature that might be similar to what users can find in Foursquare. That would include lists of starred places and better, tailored recommendations for nights out and other similar needs.
Source: Google