On Tuesday, the team responsible for NASA's MAVEN spacecraft announced they had to perform an emergency maneuver to steer clear of Phobos, one of Mars moons. The satellite orbits the Red Planet to study its atmosphere.
If the team had not taken any actions, the spacecraft would have most certainly collided with Phobos on Monday. Luckily, scientists tracked the orbits of their satellites in advance to avoid such accidents in space.
MAVEN is just one of several ongoing missions by NASA focused on research and exploration of neighboring planets. Under the new administration, the government agency is expected to double down on deep space exploration efforts and reduce the budget for climate research.
What happened with MAVEN's orbit?
NASA's Jet Propulsion Laboratory (JPL) continuously monitors the orbits of several satellites and spacecraft currently carrying out their missions. One such craft is the Mars Atmosphere and VolatileEvolutioN (MAVEN).
JPL tracking teams were performing their tasks as usual when they noticed MAVEN would crash with Phobos on Monday, March 6, if it didn't change course right away.
Phobos and MAVEN's unaltered orbits would take them to a crossing point where they would have been just 7 seconds apart from each other, making it extremely likely for them collide.
What did scientists do to avoid MAVEN's crash with Phobos?
"ON TUESDAY THE SPACECRAFT CARRIED OUT A ROCKET MOTOR BURN THAT BOOSTED ITS VELOCITY BY 0.4 METERS PER SECOND. ALTHOUGH A SMALL CORRECTION, IT WAS ENOUGH THAT MAVEN WOULD MISS PHOBOS BY 2.5 MINUTES," said NASA.
The unexpected maneuver successfully managed to make MAVEN dodge Phobos, although it now carries less fuel to use for future motor burn tactics. A small price to pay to continue surveying the skies of Mars.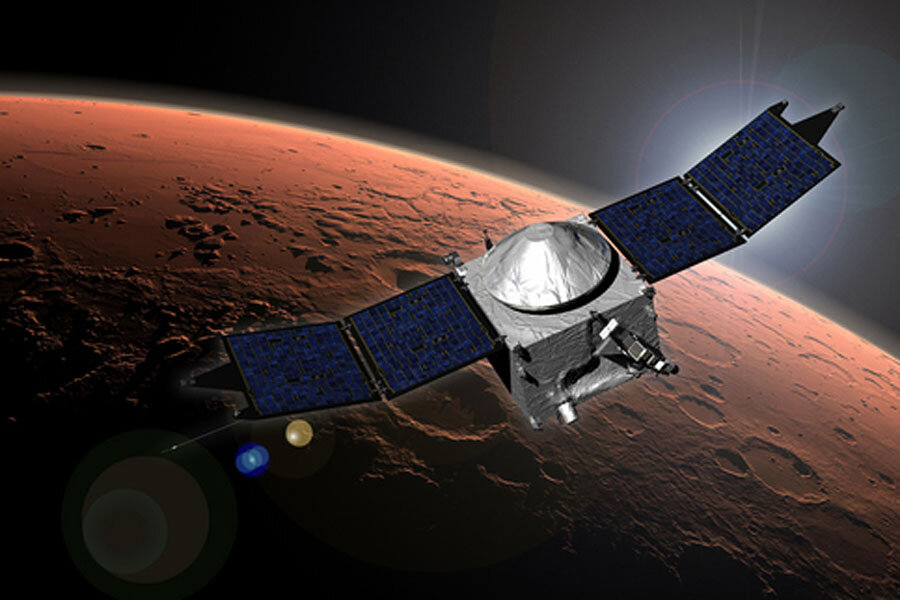 MAVEN studies the atmosphere and ionosphere of the Red Planet, as well as solar wind waves and its overall interaction with the Sun. It works in conjunction with the Mars Curiosity rover on-site to better grasp notions of life in the neighboring planet.
The collision would have cost NASA over $650 million in equipment and an invaluable amount of money and time regarding information gathered from each orbit completed by the spacecraft around Mars.
MAVEN has been up and running for a little over two years, and it is expected to have an extended mission lifetime of six years beyond its primary objective of reaching Mars.
This would make the satellite useful for at least a couple more years. Thanks to MAVEN, we have learned much about Mars' history and evolution, including clues about how the planet came to be devoid of water.
Chances are scientists will have to perform such a maneuver at least once or twice again in the coming years, but for now, the spacecraft is safe and keeps relaying data to NASA headquarters in Pasadena, California.
Source: NASA